Welcome to Apex Physical Rehabilitation & Wellness
Apex Physical Rehabilitation and Wellness is an outpatient physical therapy and rehabilitation facility that has been an industry leader in Houston, Sugarland and Katy since 1999.
Our focus is the resolution of chronic and acute injuries through detailed physical therapy evaluation and various modes of evidenced based treatment. We offer outpatient physical therapy and rehabilitation services at each location. We provide exceptional care in a friendly and professional manner and maintain the highest standards with regards to application of evidence based information.
We strive to provide the very best in physical therapy services in Houston, Katy and Sugar Land. We believe that the success of our clinics will be based on the following 3 principles:
Access: We believe that everyone should have equal access to our services, which is why we strive to participate in all major insurance plans and provide convenient locations and hours.
Atmosphere: We believe that our services should be provided in an inviting, relaxed, and friendly environment, which in turn can decrease anxiety and fear and help with recovery.
Ability: We maintain the highest standards with regards to application of evidence based information. Our clinicians continuously attend courses from reputable organizations in order to remain abreast of the cutting edge research and techniques. Our commitment to lifelong learning reflects in our ability to provide rapid, effective and long lasting treatment.
Testimonials
"I am currently making weekly visits to Apex. I feel the doctor is truly involved and concerned that his business is run properly and his patients are pleased with the service they are receiving. Top-notch operation with all the necessary equipment to you get you on the road to recovery. I highly recommend you try them if you're in need of PT."
Margie D.
"Awesome Team! Only office in Sugar Land that I could find that is open on Saturdays and has a pool! I Have Multiple Sclerosis (MS) and my doctor recommended Aquatic rehab. Found Apex on Google - 5 mins from my house!"
Ashley C.
"I really and truly enjoy coming to Apex. The staff is great and very, very experienced and helpful. I would highly recommend this facility for all of your rehab needs!"
Mudd B.
"My friends suggested to have therapy at this facility and it is great! The staff is cooperative and answers all questions that you have for them. The facility is very well organized. The flexible time schedules allow you to make adjustments if needed. The therapist really help you improve from your injury."
Y. Ballinas
"I was at Apex for nearly 3 months, and I enjoyed it more than any other clinic I've been to (and I've been to more clinics than I can count). What really separates Apex apart, other than the broad area of expertise, is the atmosphere. The combined effort of all the men and women working there really made me want to work that much harder. I couldn't recommend this place more!"
S. Combs
"My friends told me that after my neck surgery that this was the place to go, my friends gave me the best advice! The staff is very patient and answers any questions I have and are very professional. I love the aquatic therapy and they even took my type of insurance. I would recommend this place to anyone and come back if I need to. Quality of care is excellent!"
B. Daily
"I came in for help after a 3 level cervical neck fusion that left me suffering with burning shoulder pain. I received targeted exercises and great personal care that help me get through this. I highly recommend APEX and will used them again if I need them."
J. Dusek
"I was originally involved in a work related accident and was referred to Apex by a friend who had also had treatment at Apex. I have to say each time I have gone they were OUTSTANDING! Dr. Kazemi and his team take the time to explain your symptoms and what you can do to improve your condition. Apex is my GO TO therapy facility and I will recommend you all to my friends and family."
O. Rivera
"I really liked coming here. I do not live that close, but was recommended by a friend because she thought the Physical Therapist was great. The Physical Therapist took so much time with me to really see what the problem was and the best treatment for it. Four weeks later and I feel really good. Would recommend to anyone."
"I am tremendously grateful and truly motivated by APEX. In 2012 I attended another facility and was not happy. When I had my first evaluation at APEX, I saw that it offered more than I could imagine. I was very impressed with the staff and their approach in evaluating my problems and therapy to improve my physical well being. You have definitely gained a client who will refer all her friends to APEX. Very thankful."
C. Sergant
"The staff at APEX keeps their appointment times and we always start as scheduled. This is very important to me since I go to work right after my session. Dr. Ryan and his staff are friendly and genuinely concerned with getting you where you need to be."
R. Ayer
"I've had a thoroughly enjoyable experience at APEX, rehabbing my left knee replacement. They are excellent therapists, but just as important their personalities make the painful rehab process very pleasant. I recommend APEX to anyone needing physical therapy."
D. Wheless
"APEX is a very clean facility, and the therapists make the work fun. I have been to two other PT's and they were never as attentive to their clients as Dr. Ryan and his staff. I feel safe in their hands. The front desk always kept our appointments running on time, and always very pleasant on the phone. Thank you."
C. Cohen
"I have been coming to APEX since October 2012. I had a tough injury to my shoulder and Dr. K and his staff always supportive in my therapy and really help with my recovery. It has been a long hard road, but we make progress and it helps to have such professionals taking care of me. I came here for the convenient late hours, but now I would never leave to any place else. Thank you."
Christina


Voted 2015's best Physical Therapist in
Sugar Land for Physical Therapy treatment and services as reviewed by patients. Verified by Opencare.com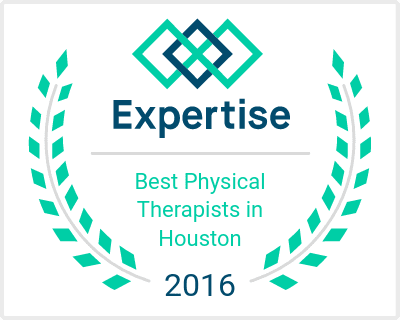 Voted as one of
Houston's top 20 Physical Therapy firms
for 2016.
Verified by
Expertise.com